Author:
Randal Meyer
Randal has been gaming in the DnD/PFRPG space since the late 90s, most of it as a GM. His inspiration is greatly drawn from his early love of fantasy and sci-fi books (especially choose your own adventures) and video games (Zelda, Dragon Quest, Final Fantasy). Drawing mazes as a kid (with multiple floors, pits, ropes, doors, and keys) prepared him for running adventures as an adult. He knew early in his life that he wanted to build web sites and applications, and has been doing so since '99. During the rise of DnD Minis, he used these skills to build the DnD Minis Warband Builder and the Dungeon Tiles Mapper tool. Since the creation of Pathfinder, all of his gaming has transitioned to it, along with his web tools. His RPG credentials can be found browsing
www.elvenintrigue.com
and
www.halfmugtavern.blog
while his professional credentials can be found at
www.randaltmeyer.com
.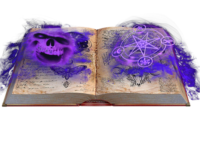 I have a side project I am working on that includes a handful of prestige classes, specifically arcane related classes. My original builds are based off of classes I wrote back prior to Pathfinder, and so were wizard…
Read More »
Another week trying to recover from being sick while catching up on all my day-to-day tasks. It is Friday, and I haven't posted anything this week. After dusting off my Wild Mage feat and Wild Magic arcane school,…
Read More »
I was cruising through some old material and was reminded of the wild magic of ADnD 2e. Then I was reminded that I had done a 3.X conversion. I admit that the flavor of the old wild magic…
Read More »
I haven't forgotten about The Halfmug, I have simply been busy at Know Direction! My Groundbreaking blog on Know Direction needed a followup this week (was supposed to be every other week). I dive deeper into the layout…
Read More »
My group recently made a number of changes to our characters in our current campaign. We switched up to use the automatic bonus progression and therefore changed the way equipment works with it. Only having magic items that…
Read More »
Hey everybody. I just wanted to let you know that today begins my new blog over at Know Direction. It is called Groundbreaking, posts every other Tuesday, and in it I will be designing a large sandbox location…
Read More »
When I was young, I remember being at a bowling alley with my dad as he practiced or bowled in leagues or tournaments. I learned early and bowled often until high school, only to give it up for…
Read More »
While I am more of a Pathfinder guy, I do have Starfinder, have built a character, and do plan to play; one day. One of the players in my RotR campaign is planning to run us through Dead…
Read More »
I listened to the first 4 episodes of the Glass Cannon Podcast playing the 2e playtest, and I took notes! The first two episodes I didn't think to write down times, but I did for 3 and 4….
Read More »
In a previous post, about my Samurai Jack knock-off PC, I mentioned that I gave him sandals of striding and springing to provide him the speed and jumping abilities you see in the show. When I did this…
Read More »